"Cannibal Tours" is part of a major art exhibition in London
7 October 2005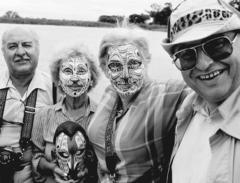 "Cannibal Tours" is part of a major art exhibition at the Hayward Gallery in London. The following review of the exhibition appeared in The Guardian newspaper:
Exhibition puts the art back in travel
Gwyn Topham
The Observer, London
Friday October 7, 2005
Travel and the modern experience of tourism are taking centre stage at a major new exhibition at London's Hayward Gallery.
The exhibition - Universal Experience: Art, Life and the Tourist's Eye - brings together a range of works from 50 major contemporary artists from around the globe, addressing how tourism is transforming the world and changing how people view and understand their surroundings, at home and abroad.
Francesco Bonati, curator of the exhibition, says: "It's such an important phenomenon, 700 million people travelling the world every year.
"We started off doing something more literal and historical on travel," says Mr Bonati. Instead, the show - crossing sculpture, photography, and large multimedia installations - feels tangential and surprising.
"There are some moments that you don't understand why they are in the exhibition," Mr Bonati admits; but says that at the end of the "journey" it should make sense.
Does the exhibition show that all tourist experience is the same? Mr Bonati says it shows the difficulty of having an original experience; but at the same time, "we are fed with the same thing - but our bodies are different. You digest a hamburger in a different way than I do. And it's the same with what we see - you might view the Eiffel Tower differently as a structural engineer, or as a stranger, or a casual passerby."
One piece shows just that; Hans-Peter Feldmann's series of 24 postcards of the Eiffel Tower give the illusion of it being in radically different settings. Other notable works include Empire, Andy Warhol's eight-hour film of night falling on New York's Empire State Building, and John Hinde's famous stylised Butlin's portraits.
It also touches on some darker aspects of tourism.
Dennis O'Rourke's biting and funny documentary Cannibal Tours tracks a group of tourists in Papua New Guinea, interviewing both the visitors and the perplexed and disgruntled visited.
One of the most disturbing parts of the show, Thomas Hirschhorn's Chalet Lost History installation, is a series of rooms mixing up Egyptian artifacts, the Gulf war and pornography. "I'm sure some people are going to just think that the artist's purpose is to scandalise, but the purpose is to show how oblivious we are to our society and how we pillage the world," says Mr Bonati.
Running concurrently is a collaborative film project, Universal Tourist, which invites the public to bring their own holiday photos and home movies to be edited together into a digital film to be shown at the National Film Theatre in December - what they describe as part documentary, reality show and artwork.
Universal Experience: Art, Life and the Tourist's Eye runs until December 11 at the Hayward Gallery, South Bank Centre, London.
The Universal Tourist Multimedia Studio is open from tomorrow until October 22. You can also take part by submitting photos by post or email - see universalexperience.co.uk/.