"CANNIBAL TOURS"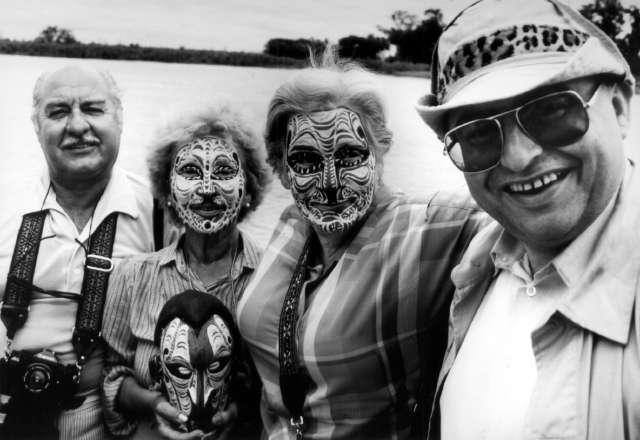 "There is nothing so strange in a strange land, as the stranger who comes to visit it."
directed and produced by Dennis O'Rourke
photography - Dennis O'Rourke / editing - Tim Litchfield
associate producers - L.J. Henderson & Chris Owen
72 minutes 35mm/16mm/video Rated G 1988
"Dennis O'Rourke's "CANNIBAL TOURS" is simply (to be more precise, complexly) stunning. While the cameras snap, the tourists bargain, and Sonny and Cher sing 'I Got You Babe' over Radio Moscow, the Papua New Guineans try to hold onto their world. 'We sit here confused,' one laments, 'while they take pictures of everything' - while O'Rourke's camera shoots the whole of a social relation that is taking over the world, the relation between the seeing and the seen. This double anthropology subtly shows how connoisseurship and condescension are linked, and how little the Western tribe of tourists understand their own culture. "CANNIBAL TOURS" succeeds in being both devastating and charming - an amazing combination."
- Todd Gitlin, author of The Whole World is Watching, The Sixties,
Inside Prime Time and The Twilight of Common Dreams
"A dryly funny, perceptive, and terribly disturbing documentary masterwork."
- John Hinde, ABC Radio (Sydney)
NOTES BY THE FILMMAKER
"CANNIBAL TOURS" is two journeys. The first is that depicted - rich and bourgeois tourists on a luxury-cruise up the mysterious Sepik River, in the jungles of Papua New Guinea ... the packaged version of a 'heart of darkness'. The second journey (the real text of the film) is a metaphysical one. It is an attempt to discover the place of 'the Other' in the popular imagination. It affords a glimpse at the real (mostly unconsidered or misunderstood) reasons why 'civilised' people wish to encounter the 'primitive'. The situation is that shifting terminus of civilisation, where modern mass-culture grates and pushes against those original, essential aspects of humanity; and where much of what passes for values in western culture is exposed in stark relief as banal and fake.
< Films | Purchase this Film >