Dennis O'Rourke to Receive Don Dunstan Award at AFF 2005
21 January 2005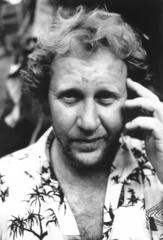 The Board of the Adelaide Film Festival has announced today that Dennis O'Rourke will be the recipient of the 2005 Don Dunstan Award, in recognition of his outstanding contribution to the Australian Film Industry.
The Don Dunstan Award was established in 2002 by the Premier of South Australia, the Hon Mike Rann, in honour of the late Don Dunstan, Premier of South Australia from 1967 to 1968 and 1970 to 1979. Dunstan's visionary commitment to the arts led to the establishment of the South Australian Film Corporation and many of South Australia's other major arts organisations and institutions. The inaugural recipient of this award in 2002 was David Gulpilil.
Recognised globally for his distinctive work Dennis O'Rourke is one of the most successful and controversial Australian documentary filmmakers of recent years. His socially critical and provocative films often depict those who live at society's margins. His brilliance lies in his ability to connect with his subject matter, revealing multiple layers of both the individual protagonists and the societies in which they live.
Dennis O'Rourke said,
"I am thrilled to be given the Don Dunstan Award, an award named for a man I have always admired. Because of this award's purpose, I am deeply honoured... and also humbled, because over the years all I have done is make a few films that have resonated with some people. I have never thought of myself as much more than a journeyman / photographer with artistic ambitions. I accept this award as recognition of the art that can be created by documentary filmmakers."
In honour of his award, the Adelaide Film Festival 2005 will screen three of O'Rourke's major works, with O'Rourke himself introducing each of these screenings.
The AFF05 is proudly supported by the Government of South Australia through Arts SA, presented by Internode and sponsored by The Advertiser, ETSA Utilities, the Adelaide City Council and Network Ten.
AFF Information and Bookings: www.adelaidefilmfestival.org/