LAND MINES - A LOVE STORY SELECTED FOR INTERNATIONAL COMPETITION AT HOT DOCS
16 April 2005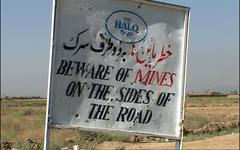 Toronto, March 30, 2005 - Hot Docs proudly announces the 30 official selections for the 2005 International Showcase. Selected from more than 900 submissions from 80 countries by international programmers Shannon Abel and Karen Tisch, all of the films in the Showcase are Canadian premieres, six are world premieres, 9 are international premieres, and four are North American premieres.
Presenting 29 features and one mid-length film, the International Showcase demonstrates the strength and burgeoning popularity of the feature-length documentary. The programme exhibits works from a variety of documentary traditions by both first-time and veteran filmmakers - including Werner Herzog, Barbara Kopple, Fernando Trueba and Dennis O'Rourke - exhibiting an impressive range of documentary subjects, perspectives and styles.
International programmer Tisch emphasizes the importance of the documentary arts illuminating the personal side of global political issues: "Can you imagine being a boy soldier in Uganda ordered to kill a mother as her child stands by? What about a factory worker in China, a quadriplegic rugby player, a child incarcerated in an adult prison in the Philippines or a pre-teen inhaling toxic dust in a Bolivian mine? It is incredibly difficult to conceive of the daily challenges - and triumphs - experienced by people in different parts of the world. The International Showcase provides a window on these diverse experiences."
Programmer Shannon Abel continues: "The filmmakers in this year's Showcase have interpreted their subjects' stories with passion, creativity and intelligence. Their works present personal perspectives on the political, social and cultural realities that underpin these real-life dramas. We are proud to bring these fresh, bold and revealing films to Toronto audiences, which we know will inform, challenge and delight."