Land Mines - A Love Story has been invited to the Locarno Film Festival
11 May 2005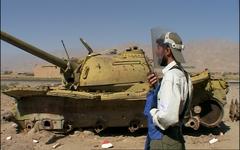 Land Mines - A Love Story has been selected for the International Competition in the Human Rights Section of the Locarno Film Festival. The festival will run from 3 to 13 August; it is one of most important international festivals in the world. It is also the second oldest, and it counts about 200 thousand presences over 11 days of festival: more than one thousand and two hundred journalists, buyers from all over the world and an extraordinarily enthusiast and young public.

Since 2003, the official selection includes a special program devoted to the cinema dealing with the human rights. The films selected for the Human Rights program together with all the films invited in the festival dealing with the human rights compete for the Human Rights Award, a prize of 5'000,00 Swiss Francs assigned by a jury of three members.
Dennis O'Rourke has been invited to attend the festival.