Land Mines – A Love Story is awarded in Leipzig
9 October 2005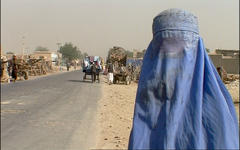 Land Mines – A Love Story has received a major prize at the Leipzig Documentary Film Festival.
PRESS RELEASE
The Jury of the Trade Union VER.DI awards its Prize to the film:
Land Mines - A Love Story by Dennis O'Rourke (Australia)
"One film about love impressed us most this year. The love between a woman and a man. The love of the film maker for a country, for its people, for Afghanistan. The love for creating the film, for impressive pictures, interesting dramatic levels, which were interwoven artistically with each other. The love for detail which was never used with cheap showmanship.
The film narrates in a soft and completely unspectacular way about a topic, which, in the true sense of the word, can be found in the street, hidden under dust - about land mines. The film is very personal and at the same time universal. We become aware of a world-wide crime. It moves us and causes goose-pimples
- and this is the reason why we give our prize to this film."