"A scrupulously filmed, sensitively structured documentary" writes Jason Steger in the Sydney Morning Herald
16 January 2006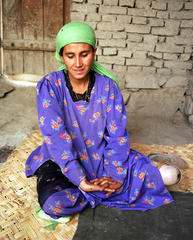 ''When I see someone buying shoes or sandals, I get a drowning feeling in my heart.'' So says Habiba, an illiterate Afghan woman who had a leg blown off by a landmine while herding cattle. She is married to Shah, who lost his legs fighting for the mujahideen against the Soviets.
They are the human faces of the casualties of war in Afghanistan, of the heartless damage of the arms trade, of the indiscriminate killing and maiming by landmines, of the so-called superpowers. They are the statistics that one military spokesman describes as ''unfortunate'' when he tries to explain how cluster bombs dropped by the US air force happen to be the same colour as food parcels.
The great strength of Dennis O'Rourke's dignified and powerful documentary, for which he won best documentary at last year's AFI awards, is that he lets the participants tell their own stories.
There is no voice-over directing the viewer; O'Rourke allows his subjects to impress with their modesty, honesty and humanity.
How do these two previously anonymous statistics survive? With great difficulty. Shah is a cobbler but doesn't earn enough to support Habiba and their three children. The Martyrs and Disabled Office offers Habiba a pension equivalent to $1.50 a month, which the Afghan bureaucrat describes as ''a paltry amount''.
So Habiba plucks up her courage and, in her full sky-blue burqa, goes begging in the bazaar. It is a big step and a hazardous one. She is criticised for the ''shameful'' action, and she is propositioned. ''I wouldn't compare you to my husband's prosthetic leg,'' she tells one man defiantly.
Daily survival is a battle and Habiba is realistic about their prospects: ''There will never be peace in Afghanistan. We will carry the seeds of war and so will our children.'' And Shah's rhetorical question is to the point: ''Can't they make something useful? . . Landmines are evil.''
This is an extraordinary documentary, scrupulously filmed, sensitively structured. It will enlighten you, stir you and make you cry.