YAP ... How Did You Know We'd Like TV?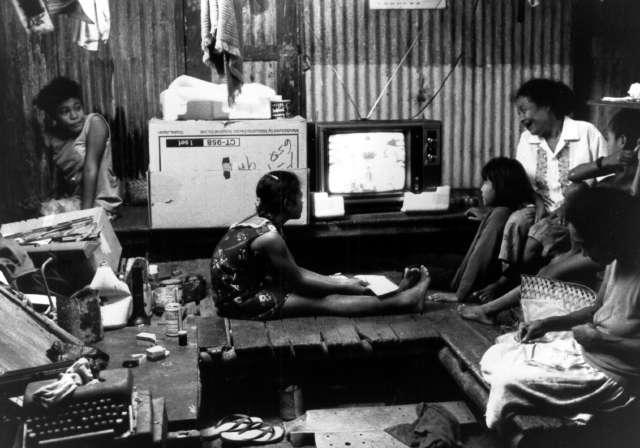 "Be careful when you sit under a coconut tree ... a falling coconut makes no sound."
- an Island warning
directed and produced by Dennis O'Rourke
photography - Dennis O'Rourke / editing - Peter Berry
56 minutes 16mm/video Rated G 1980
Willy Gorongfel, the Yapese news reporter, announces on television: "This is WAAB-TV going on air, broadcasting eight hours a day, with news on Tuesdays and Fridays, when it's nine hours. So get out your betel-nut, relax in front of your television and enjoy yourselves!" Is this another paradise lost?
During the negotiations leading up to the "Compact of Free Association" with the USA, the people of the small Pacific island of Yap learnt that they were to get a television station and a regular supply of American programs, complete with advertisements for Big Mac hamburgers, vaginal deodorants, Californian Ford Dealers and carpet shampoo.
All this was to be provided by the mysterious "Pacific Taping Company" of Los Angeles.
Many Yapese are opposed to television - they see it as a threat to their fragile culture and an outsiders' attempt to foist changes on them. They believe the "Pacific Taping Company" is a front for a conspiracy to create dependency, and promote US cultural values in an otherwise insignificant but strategically important island.
"Dennis O'Rourke's film is a witty and disturbing view of cultural imperialism at its most cynical and blatant - a compelling melange of unsettling images of natives living in tin shacks drinking beer and staring at shiny new TV screens, while advertisements for hair-remover, candy bars and air-conditioning float incongruously through the steamy jungle.
Closer to, say, Levi-Strauss than to romantics like J.G. Frazer or Werner Herzog, O'Rourke's sympathies for his subjects are deeply political ... The situation speaks for itself, but again O'Rourke mounts his argument with wit, vigour and intelligence."
- Geoff Andrew, Time Out (London)
< Films | Purchase this Film >