HALF LIFE - A PARABLE FOR THE NUCLEAR AGE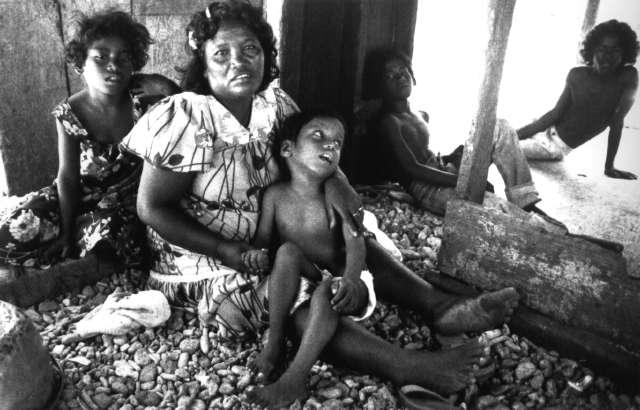 "MARCH 1, 1954 - THE HEIGHT OF THE COLD WAR. IN THE PACIFIC, IT WAS THE DAY THE 'SNOW' FELL ..."
directed and produced by Dennis O'Rourke
photography - Dennis O'Rourke / editing - Tim Litchfield
music - Bob Brozman
86 minutes 35mm/16mm/video Rated PG 1986
"One of the most extraordinary documentaries of recent years ... the facts, and the documented history of them, are so terrible that one could have readily forgiven O'Rourke, the Australian filmmaker, the kind of polemic fury he never uses, particularly as the Americans were handed the territories on trust by the United Nations, with President Reagan saying many years later: 'You'll always be family to us.'
Words almost fail one."
- Derek Malcolm, The Guardian (London)
"ARGUABLY THE BEST DOCUMENTARY MADE BY AN AUSTRALIAN"
- Sandra Hall, The Sydney Morning Herald
"PROFOUNDLY AFFECTING ... impressive for its absence of hysteria. The prevailing tone is a kind of ironic melancholy ... no one will quickly forget those beautiful unaccusing faces as they tell their story without rancour."
- Evan Williams, The Australian
"A DEVASTATING INVESTIGATION ... astonishing contemporary record film."
- David Robinson, The Times (London)
"Slowly, meticulously and to ironic steel-guitar music, O'Rourke builds up a more or less irrefutable case for Rongelap Atoll and its inhabitants having been used as guinea pigs. INTELLIGENT, MOVING AND UNMANIPULATIVE ... MAGNIFICENT."
- Nick Roddick, Cinema Papers
JURY PRIZE (BEST FILM) AND BERLINALE PEACE PRIZE
- Berlin Film Festival
DIRECTOR'S AWARD FOR EXTRAORDINARY ACHIEVEMENT
- Sundance Film Festival
< Films | Purchase this Film >