CUNNAMULLA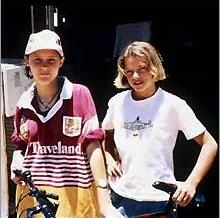 "In outback Australia, a group of marginal but compelling characters play out the daily drama of their lives in ways that are alternatively shocking, sad or hilarious."
directed and produced by Dennis O'Rourke
photography - Dennis O'Rourke / editing - Dennis O'Rourke & Andrea Lang
executive producers for Film Australia - Stefan Moore & Chris Oliver
82 minutes 35mm/video Rated MA15+ 2000
Arthur the taxi driver patrols the sun-baked streets, making terse observations on small-town life. Neredah, Arthur's talkative partner, lets us in on all the scandals. Cara, a thirteen-year-old Aboriginal girl, and her white friend, Kelly-Anne, have dropped out of school; their biggest wishes are to not get pregnant and to escape to the big city. Paul has just turned eighteen; he is about to go to jail for the first time. Ringer, the town's official dog catcher and undertaker is at odds with Herb, the scrap merchant who lives near the rubbish tip with his dogs and guinea fowls. Marto, the deejay at the local radio station, idolises Kurt Cobain and dreams that his Heavy Metal band will one day get a recording contract. Pauline is Marto's girlfriend; her parents do not approve of Marto whose has rings in his nose and ears and eyebrows. Jack is the pensioner who adopted Marto as a baby; he's black and Marto is white. They argue after the police raid Jack's house, looking for Marto's drugs.
In addition to this cast of characters, there are town poets and town drunks, "good" women on committees and "bad" women hanging around the hotels; there are shearers and opal fossickers, wealthy farmers and shopkeepers. There is the priest, the town band, and the visiting concert pianist. There is Slim Dusty, the famous country-and-western singer, and there is Santa Claus.
There are all these characters who know each other, but not everything about each other, and who love each other, or like each other, or detest each other, or are indifferent to each other. They pass in the street, they drink together in the pub, go to church, frequent the local lovers' lane and watch the same television news as the city dwellers a thousand kilometres away.
From the perspective of the city these people are considered marginal, desiccated figures in a burnt landscape, but they certainly are not marginal in their own heads, they are not marginal in their own hearts - not marginal to their children and loved ones, and not marginal in their community. Here, in the Outback, in Cunnamulla, are people capable of affection; here are people capable of creativity, here are people capable of eloquence, no less.
"...The Best Australian Film of the Year..."
Megan Spencer, Film Reviewer, Triple J
"Cunnamulla is a small triumph."
Evan Williams, The Weekend Australian
"It is a haunting, intelligent, and complex film of great power."
Ruth Cullen, Filmink
"...arguably Dennis O'Rourke's most powerful and subversive work...a
vivid, disturbing, unforgettable portrait of an outback community."
Andrew L Urban, Urban Cinefile
"...timely, transcendent, seamless, even classical piece of filmmaking,
and only an idiot would fail to see that."
Ruth Hessey, Independent Filmmaker Magazine
< Films | Purchase this Film >