"COULDN'T BE FAIRER"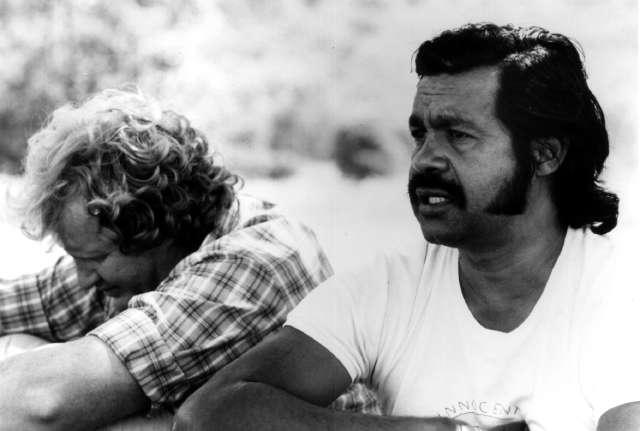 Mick Miller: "We are living on the fringes of a white, affluent society, treated as fourth and fifth class citizens ... We are truly strangers in our own land."
directed and produced by Dennis O'Rourke
photography - Dennis O'Rourke / editing - Tim Litchfield & Ruth Cullen
written and narrated by Mick Miller
50 minutes 16mm/video Rated M 1984
"Couldn't Be Fairer" is an extraordinary depiction of a side of Australian aboriginal society which is hidden from the eyes of most white people. With unflinching honesty, it depicts the problems of alcoholism, racial violence and political oppression still faced today by the first Australians. Using astutely selected archival footage to give historical depth to scenes of contemporary desolation and abuse, the film is a hard-hitting statement about racial conflict.
"Couldn't Be Fairer" is also a profile of aboriginal activist Mick Miller, who collaborated in the production. Miller narrates the film and forcefully expresses his view of race relations in Australia today.
"Couldn't Be Fairer is a devastating account of the Aboriginal land rights battle in Queensland. It reveals white Australians at their most beer-sodden and hypocritical. O'Rourke has captured scenes showing how racism and vulgarity which the middle class of Sydney and Melbourne like to think died with the 1950s are alive and thriving in the Australian heartland."
- Robert Milliken, National Times (Sydney)
"I don't think they are really advanced to a stage when
you can give them freehold land and this sort of thing ...
they wouldn't know what it was ..."
Queensland Minister
for Aboriginal Affairs - 1982
"We treat them the same as everyone else
- couldn't be fairer."
Queensland Premier,
Joh Bjelke-Petersen - 1983
< Films | Purchase this Film >